Our Exhibitors
Natural Healing Candles, Oils, Sage, Books, Salt Lamps & Music~ Finding the right book is easy, these books have been hand selected for the Expo, featuring topics on Life after Death, Angels, Ascension, Science & Spirituality, New Age, Crystals, Chakras, and more. From Mother Nature, Himalayan Salt Lamps, produces negative ions that are good for you, and is a renewable resource. 100% Pure Palmwax Candles to work on your Chakras, with essential oil, sweet grass. sage, banners, tapestries & more.
Minas Gerais Brazilian Crystals
Retail & Wholesale
Exclusively at the show=2 Days only.
We offer a large variety of Shungite goods for healing and protection, as well as Shungite stones for water purification. Shungite works on both physical and metaphysical levels. The study of the effect of Shungite on electromagnetic fields showed that it can be used as a protection against harmful EMFs (electromagnetic frequencies) of cell phones, television sets, computers and Earth geo-pathogenic zones. Shungite aids the body in its healing and helps to restore emotional balance. It is a great protector and a guardian. It purifies one's body, aura and personal space of any hazardous energies. Shungite is an excellent stone for magical and mystical work, for it infuses aura with light, allowing only positive and beneficial energies to come through, and blocks negative energies of any origin, including negative energies of other people.
Pharaoh CylindersPharaoh cylinders are used to

recharge the user, and correct energetic imbalances within the body. This increases the efficiency of bodily processes, and helps to ease mental, emotional, and physical strain.
Psychic, Teacher, Speaker
kayla Michaele
Kayla Michaele is a talented Psychic, Medium, Teacher and Presenter in the Minneapolis and Twin Cities area of Minnesota. As a Psychic reader, Kayla's direct and honest style allows clients to navigate through the "fluff" and get down to the core issues or questions. "We get so inundated with extra 'stuff' and perceptions that e often mask what our real issues or questions are," she explains. "Once we realize our true desired question, Spirit can then help us determine and go forward with our Soul's higher purpose in any given situation."
In her readings, Kayla dips into what she calls her 'spiritual tool box' and draws upon her psychic, empathic and mediumship abilities to best serve her clients. "Each client and situation is different," she explains. "When I meet with a client, the first thing I do is ask Spirit how to best communicate with this person. Just as some people learn through reading, talking or doing, some clients need me to tell them what I 'see' or 'feel.' Others may need me to literally draw out the information that I am receiving."
Every session is packed with useful and down-to-earth information. Kayla points out that she has never been known to "mince or sugarcoat" her words. While her readings are straightforward and honest, the information is delivered with understanding – and always with a dash of humor. "Listen, if we can't find the littlest bit of humor in a situation or laugh at ourselves, we tend to become too serious and overwhelmed."
Kayla has studied with psychic, medium, healer and author Echo Bodine; healer, teacher and speaker Carol Lowell; and Akashic records teacher and life/business coach Dahna Fox.
DON'T MISS the Workshop @ Noon Sunday.
The Twin Flame phenomenon: Is there another Half to you?
with Kayla Michaele & Chris Herzog

The Twin Flame Phenomenon is real and Twin Flame Union is happening now, more than ever! What is a Twin flame Union and could it be happening to you? Chris Herzog and Kayla Michaele, Twin Flame Lightworkers, will lead you through the meanings, signs and purposes of this world changing Phenomenon.
$5 admission at the door.
The Tumbled Stone & Crystal Grids
Tumbled stones, crystals, geodes, carved stone spirit animals, pendulums, singing bowls, andel/oracle cards, labyrinths, crystal grids, books & more.
Workshop- Crystal Grid Magic
Sunday @ Noon
Join Vicki in learning to harness the power of the sacred grids combined with the energy of crystals to manifest your greatest desires.
Indian Vedic Oracle
Vedic Oracle, Lali will use Ancient Vedic Teachings to do
Vedic Third Eye readings, Palmistry, & Numerology for you to discern your next moves...
Lali has trained with many Indian Masters in the Ancient Arts of Indian Vedic Divination. He has worked with many famous personas such as Dr. John Gray,Martin Luther King Jr.III, Robert F. Kennedy Jr., Jack Canfield, Loretta Swit , Marianne Williamson, Mariam Hemingway, Doreen Virtue, Shiva Rea Jill Lublin, Debbie, & CHER
DONT MISS Lali's workshop Saturday morning at 11 am ! Tickets at the door, $5.
RED ORCHID MEDIUM
Melanny Henson Osborn is a gifted Christian medium from Clear Lake, Iowa. Her skills include connecting to deceased loved ones, tarot readings, and body scans/healing. She has been practicing energy reading and mediumship professionally for four years. She will begin seeing clients in her Clear Lake office when the new Wellness Center opens in January 2018. In addition to readings, she teaches English full time, and has a background in publishing, creative writing, and college lecturing.
Alphay is a billion-dollar, debt free company, and the world's largest grower, supplier, and knowledge-base of the Lingzhi mushroom, also known as the Herb of Longevity. Lingzhi has been revered in traditional Chinese culture and medicine for over 5,000 years, and is supported by modern, published bioresearch for its spectacular health benefits.
Located in the Jiangsu Province of China, our Alphay Campus is a 21-acre playground for some of the brightest minds and nutritional scientists dedicated to using Lingzhi to create ground-breaking new products.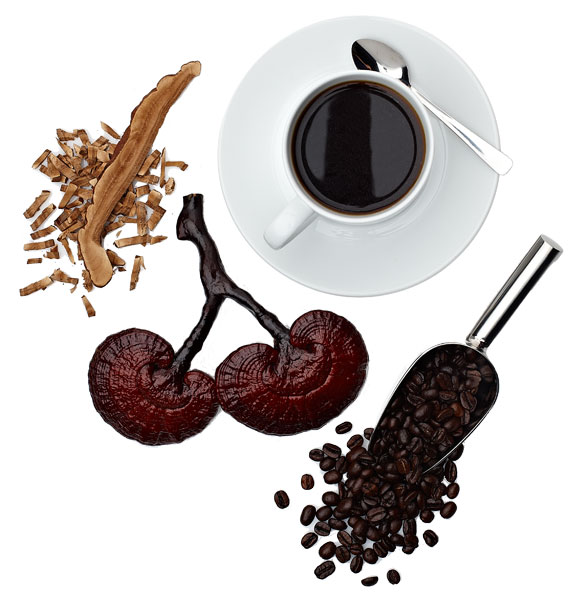 Café Blends
Enjoy the healthiest cup of bold coffee or an equally beneficial, aromatic black tea. Our Café Blends are infused with a balanced blend of nutrients including 100% organic Lingzhi.
Experience balance in every cup.
---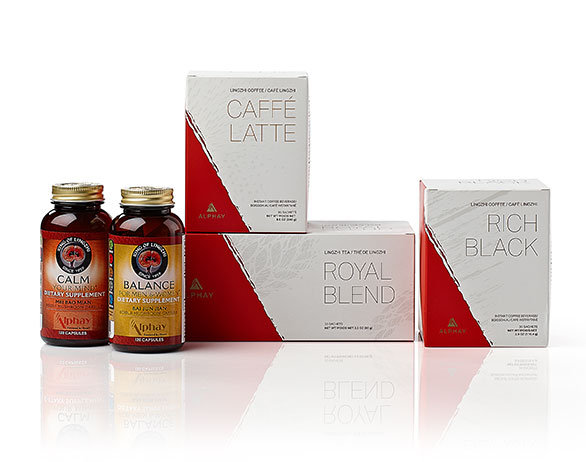 Targeted Nutrition – Product Combos
A series of product combinations formulated using traditional 5 Elements-based ingredient selection to deliver support for your body on deep, energetic levels as well as the physical organ-level.
Find the product combo that's right for you.
Learn More
Infused with an exclusive, nutritional, four-mushroom blend, our black coffee promotes overall health and well being. Inspires balance from head to toe. More than just basic black, Rich Black is a sensual drink experience.
MYSTICAL DIVA
I will be offering oracle/tarot card readings with a free talisman to take with you. I connect to the Otherworld to bring you a message. Often an Archangel or spirit animal steps forward to help you with your journey. The talisman will help to keep you connected as long as needed.
"I am an artist and a healer. It is my life's passion to help people to remember who they are. Beautiful beings of light with the power to tap in to their natural healing abilities." Becky Steinhoff
Ricky Yutuc-Sound Healer from Kauai

Ricky Yutuc
Ricky's healing didgis are made from the fallen Agave plants. The agaves are harvested by Ricky in Sedona Arizona and on the Island of Kauai, Hawaii. Next, Ricky, a master in the art of making didgeridoos,
creates them to play in each of the concert key pitches that relate to each charka's frequency of the body.
After scanning the body for blockages using Reiki techniques and crystals,
Ricky plays the appropriate didgeridoo to open and clear the area of the body that needs healing.
Ricky Yutuc is a Vibrational Healer using a 4x4x4 pyramid made of copper tubing filled with clear quartz crystals, didgeridoos, tuning forks, crystals and etheric surgery by activating the cellular memory of LOVE to unblock chakras and release cords from physical, emotional and spiritual issues. Ricky is a certified Ushi Reiki Master with the ICRT and certified with Jonathan Goldman's Sound Healing Intensive.
Acupuncture
- We offer both needle and non-needle acupuncture options!
DOT Physicals

Auto Injuries

Tennis Elbow
Neck & Back Pain
Depression/Anxiety
Women's Issues

Headaches & Migraines

Carpal Tunnel Syndrome

Joint Pain, Arthritis

ADHD
Barnett Chiropractic & Acupuncture Clinic
360 Pierce Ave #204
North Mankato, MN 56003
5073824997
Your Personal ANGEL, Painted for you!
Sue Babbit~ Sue Babbitt is an intuitive artist, guided by the Angels who are there with each individual that she paints for. The colorful paintings are a reminder of the unconditional love and support each individual has from the Angelic beings of light around us. The colors as well as the placement of the colors, are chosen by the Angels around each individual. The paper color is also chosen by them as a personal message. The painting, along with a description sheet for the colors used, will give you a visual message of how they are or can support you. The support can be for your personal life or as a support for your effort in helping others. Remember, you are never alone. They are always with you and always supporting you with unconditional love. All you need to do is ask them to go to work for you.
Namaste Therapy - Ray is a Chi and Crystal Energy Therapist who provides custom crystals to help you balance your Chakras, improve sleep, and keep you energetically cleared. Crystals and gemstones will be available for purchase. Namaste@myclearwave.net
SPIRIT WOLF VISIONS
James Neubauer
A variety of melded readings that can consist of two or three different divination systems that are brought together in the same reading to provide guidance and clarity. Each reading is priced differently with it's own description of what it will provide for you in regards to the guidance.
As a child, I always felt different, seemingly knowing when someone needed to talk when they were experiencing emotional crisis. I also used to see spirits in my day to day life, which would scare me. I went through a period of time when I tried to be normal, because I didn't know there were others like me. When I got older, I discovered that what I had was a gift. While I am making the journey to use my gift, I have learned that some of the things I could do as a child, like see spirits, has changed and I cannot do them now. My ability seems to have changed in the direction of knowing. I am clairsentient means that I tend to know things that I shouldn't, however, I usually know things that the person already knows. I picked up a set of tarot cards back in 1998. I didn't have a formal teacher, I learned how to do readings on my own with only a book and some guidance along the way from various people I encountered. I didn't start reading for the public in a significant way until 2014, when Spiritwolf Visions was born!
Let's get Stones!
At Let's Get Stones, we specialize in one-of-a-kind gemstone jewelry and gifts. My pages are filled with Reiki attuned, wire-wrapped pendants, earrings, rings and bracelets to assist in improvement of mind, body and soul. Each stone is unique and individually hand wrapped. Therefore, no two items are alike. Pendants are shipped (FREE) with a short description of the stone's properties. They may be worn as jewelry on a chain or cord or displayed on the ribbon provided in your car, home or office. See "clip-ons" for more options such as a key fob, zipper pull, fan chain pull or to attach to your purse or pet's collar. Black and brown cords, chains and organza gift bags are also available.
http://www.letsgetstones.com
Debra Buth
Aihu Independent Consultant - Team Leader
Organic Skin Care, Aromatherapy, Mineral Makeup & Home Keeping Products
www.aihu.net/debrabuth
(701) 367-5535
AIHU - Green for Life!
Join the KETO Crowd and feel Amazing, Look Fabulous, and know the science behind this product is 100% real.
WE CAN PROVE IT.
Lisa Tolbert
Grateful Dowsing - Frank DiCristina~ Having a session with Frank has been life changing for many clients. When sound is directly applied to the body and aura field, clients often find issues that were present for years were finally released. Sometimes vibrational energy is just what is needed to get things moving. Sound healing with Body Energetics represents a natural, alternative, holistic approach to wellness for body, mind and spirit.
Grateful Dowsing / BioMat Network is a company that does environmental stress assessments, Harmonic Sound Therapy, Crystal therapy, Reiki and Healing Touch. The personal work is done on a massage table. Himalayan Singing Bowls are placed around the client while they lie on an infrared pad with 17 lbs. of Amethyst. It is a very relaxing and therapeutic treatment.
Dowsing rods, singing bowls as well as other items are also for sale.
http://www.gratefuldowsing.com/body_energetics.html

YOUNG LIVING ESSENTIAL OILS
Don't miss Scott & Cherie's Essential Oil Seminar Saturday at NOON! The Exciting New Essential Oils & Their Astonishing Benefits on Everything... A-Z.
Young Living Essential Oils... The Leading Natural & Organic Medicine For Reversing Chronic Degenerative Conditions & Restoring Emotional, Mental & Physical Health.

Presented By Scott Lindgren & Cherie Ross. 


Scott Lindgren has worked personally and professionally with Essential Oils for over 9 years with people and animals nationwide. Scott has participated and assisted many seminars on natural health across the nation.
Scott's practical and no non-sense teaching style makes it easy for everyone to learn and understand how Essential Oils and natural medicine can simply be integrated into your daily life. Come and learn about natures medicine that other countries have been using for centuries in preventing and treating allergies, colds, flu, injuries, viruses and more serious health challenges.
David Thomas & Nicole Crosby
Nicole has been drawn to healing since 2003 when she began her own journey of self healing when medical doctors could not explain her painful joints & sub-acute joint swelling which made engaging in every day life a struggle. Through diet, movement, crystals & essential oils she begain to discover self healing. These lead to her discover of energy work in 2012 & her reiki training begain! She is now a certified reiki master & is grateful to bring reiki & energy work to others on their own path of discovery.
Nicole continues to use essential oils, crystals, movement & reiki to assist in her own personal spiritual growth & healing.
For sessions you can visit my facebook page Divine Source Energy & Reiki or contact me at 507-766-5800
David Thomas first started his interest and studies in Reiki and the Chakras in 2008. He received his Reiki Master/Teacher certificate in 2011. He is a professional member of the International Center for Reiki Training. He is a certified teacher and practitioner in Usui / Holy Fire, as well as a Registered Karuna® Reiki Master.
Workshop-"The Healing Power of Reiki"
11am Sunday, Dec 3rd
Learn what it can do for you in your life! $5 admission
Attendee's will get either a $5 off on a session at the show or $10 off a session at either of our studios.
Reiki is a practice for stress reduction and relaxation that helps promote healing. It is based on the idea of life energy. Everything that is alive has life energy in it. When your life energy is high, you feel strong, healthy, balanced and happy. When the energy is low you feel weak and are less alert and more prone to make mistakes, feel less competent and get sick more easily. Reiki is a method of restoring one's life energy. You can do this either through a session or work on your own self-practice once you have learned how.
David is dedicated to providing compassionate care, and to mentoring students as qualified and caring practitioners who will contribute to the healing and welfare of all living beings.
David's studio is in Belle Plaine, MN and he travels for his clients and students throughout the metro and surrounding area.
www.lotusworkshop.com david@lotusworkshop.com www.facebook.com/reikiwithcompassion
David does Chakra balancing, alignment and recharging the Chakra's with a process called color fill.
Spirit Haven

Spirit Haven ~ We scout the world over for the finest quality items for you. Crystals, Sweetgrass, Palo Santo, Incense & Sage, Witch Balls & Faerie Spheres, Shells & Abalone, Jewelry, Sacred Geometry pieces and Figurines, featuring Angels & Faeries. Treasures for the Mind, Body & Spirit.
Robin is a Licensed Massage Therapist in Savage, MN and Certified Master Crystologist who studied under Melody and has worked with crystals for more than 20 years.
~Treasures & Services for the Mind, Body & Spirit 612.267.6950
www.SpiritHavenMN.net | Robin@SpiritHavenMN.net
Jorge Villanueva Castillo - The "Sol Fire Shaman"
Jorge is a gifted healer, powerful shaman, energy worker, channeler, mentor, and spiritual teacher. He is not only a Mystic of the ages but also a loving family man and great friend to many. His heart is always giving and his door is always open.
Jorge was born into a lineage of Mayan shamanic healers in Progreso Yucatan Mexico. At a very young age he began healing others through traditional shamanic methods and quickly developed a sense of the Spirit world. He has always naturally experienced shifts in consciousness and could see energy, multiple dimensions, spirits, auras and disturbances inside the physical body. As a medical intuitive, he found he could energetically shift the physical into the perfect ethereal body to bring about healing. Jorge also frequently works with Angels, Jesus, other Ascended Masters and light beings.
Through additional training over the years and spiritual intuitive guidance, Jorge now incorporates other modalities into his healing sessions, including Reike, Hands on Healing, Cranial Sacral, Quantum Touch, Crystal Healings, Healing of past and future lives, and Spiritual Surgery. In recent years, he broke through another layer and was given the gift of bringing people to a zero point field where great transformation occurs. This is called "dropping" as people will drop to the ground suddenly when they enter the zero point, the source energy.
Jorge feels called to share healing techniques and Divine teachings, as channeled from God and other higher sources, with those who are seeking to learn. He leads regular meditations, classes and ceremonies for those interested.
*Spirit Walkers Shamanic Healing offers powerful healings by Sol Fire Shaman Jorge Villanueva Castillo with a team of Healers & Shamans working on each person.
Don't Miss the Shamanic Healing Circle @ 2:30pm Saturday & 2:30pm Sunday -Presented by Sol Fire Shaman & his Spirit Walkers. advance tickets:

https://matrixmediaexpo.ticketbud.com/natural-healing---psychic-expo-dec-2---3-2017-570baeac7046
Admission: $20 in advance & $25 at the door
Crystals
Healing Crystals for Divination and Meditation.
You can intuitively choose which crystals to use by noticing which stones you are attracted to. Keep your heart and hands open and allow the appropriate healing crystals to find their way to you.
The human body has an intricate electromagnetic system known as an energy system. Within nature, we find crystals that are perfect electromagnetic conductors, capable of interacting with our electromagnetic system.
Crystals carry a vibration that activates certain energy centers within our electromagnetic system, thus having a positive effect on our entire body systems.
Your True Identity~Kristine Scott
Are you struggling for direction, not sure what you want in life or how figure it out? Have you ever wondered what things would be like if you had permission to be who you really are?
What if you could connect with that part of yourself that always knows exactly what you need to do?
Kristine Scott is an intuitive energy practitioner who uses multiple disciplines to support her clients' desire to transform the mental physical and spiritual components of their being. She believes that we all have the ability to bring love truth and joy into our world.
Kristine Scott works intimately with her clients as they connect to their highest self and discover their own unique place in the world. All sessions with Kristine are confidential and conducted with respect love and grace. http://www.yourtrueidentity.com/services-2/
Check out Omar's Touch to be Feel Great Again--
Omar has practiced Mind, Body, Spirit Energetic therapies 75,000 hours since 1976, serving thousands of clients. During sessions: 1) You learn to release tension fast, vibe up to higher frequencies where you're low. 2) Learn to direct your powerful Subconscious Mind to relax DNA, specific organs, glands, nerves, joints, muscles, bones, etc. where you haven't been relaxing – working with Energy as the Language of the Universe. 3) Level II sessions locate memory contexts of life's dramas & traumas to change your energetic history from negative to positive! Addressing one healing objective helps address all healing objectives, conscious or not. Omar, B.A., M.S. Columbia Univ. '62, plans to live to 125 years or longer serving humanity, invites you to join him.
Will you commit today to Higher Health & Healing using natural methods? Let's create some world records. Our motto: Improving the World, One Person at a Time.
Omar's Energy Healing Workshop on Saturday at 4pm!
$10 admission
TAROT-T"RUTH" by RUTH
Angels watch over you, providing strength and love when you need it most. I am a psychic using angel, fairy & golden tarot cards to help give peace, direction and build hope & faith for your future by mixing messages from your spirit guides, angels & fairies with mine.
Crone Stones
CroneStones ~Beautiful Stones and hand-wrought jewelry selected for their vibrational qualities to soothe the spirit and enhance your body/mind/spirit. gotrocks2010@hotmail.com
Eckankar means "Co-worker with God." It offers ways to explore your own unique and natural relationship with the Divine.
ECKANKAR, Ancient Wisdom for Today - Come discover the spiritual adventure of a lifetime! We have free information at our booth about past lives, dreams, and soul travel as well as various other topics including Spiritual Wisdom on Health and Healing. Contemplate on a question and spin our Spiritual Wisdom Wheel to see what answer you get. For more information, call 1-800-717-0371 or eckankar-mn.org.
What are the basic beliefs of Eckankar?

Eckankar teaches these basic beliefs:

Soul is eternal.

Soul exists because God loves It.

Soul is on a journey of Self- and God-Realization.

Soul unfolds spiritually via karma and reincarnation.

Spiritual unfoldment can be accelerated through conscious contact with the ECK, Divine Spirit.

Contact with Divine Spirit can be made via the Spiritual Exercises of ECK and the guidance of the Mahanta, the Living ECK Master.
You can actively explore the spiritual worlds through Soul Travel, dreams, and other spiritual techniques.
Spiritual experience and liberation in this lifetime are available to all. Back to top
http://www.eckankar.org/whatis.html
Don't Miss the Seminar by Jennifer Exsted & Greg Fast
4pm Saturday : Soul Travel.
Soul Travel – Awaken to the most secret and sacred part of yourself. Discover how Soul Travel can help you step out of the crowd and master your spiritual destiny. 4 p.m. Saturday, Dec. 2. Presented by the Minnesota Satsang Society, a Chartered Affiliate of ECKANKAR – The Path of Spiritual Freedom. Eckankar-mn.org. For info. 1-800-717-0371.
Jennifer Exsted has studied past lives, dreams, and soul travel for 24 plus years and has had vivid experiences that have shown her what direction to take in life.
She is a member of ECKANKAR and is excited to share these techniques with you to help you on your spiritual journey.
LynMarie8 –Intuitive, Medical Intuitive, Medium

Beyond Quantum Consciousness ® /Theta Healing ®
This resolves all mental, physical, spiritual conditions in all aspects of one's self, of the past, present, future simultaneously & permanently. Creating permanent shift on all levels of Mind, body, Soul. & your cellular structures. Receiving 100% truth and accurate info from your records on and off planet, while creating a permanent shift in all areas of your life.
LynMarie8 Is the founder and teacher of Beyond Quantum Consciousness ®. Certified Teacher of Theta Healing ® Intuitive, Medical Intuitive, Medium www.lynmarie8.com, lynmarie.8@aol.com, Speaking Saturday at 11 am on the FALL FROM GRACE. $5 admission

LynMarie8
www.lynmarie8.com
lynmarie.8@aol.com
DrumMaker, Wayne Manthey
As I started making drums, I was especially interested in the vibration of rawhide and the sound it makes. Once I was able to consistently achieve the quality sound and felling I was looking for, assign antlers, wood, stone, and lacing variations made the drums more decorative and visually pleasing.
The healing properties of a drum are found in the elements that make it: wood and animal hide. Making personal frame drums is a journey that is individually and spiritually meaningful. Teaching drum making classes involves storytelling and introspection. The drum symbolizes the heartbeat of life, the heartbeat of community. It is not simply an art form, but a tool for cleansing, centering and focusing one's intentions for health and happiness.
Drums teach responsibility. Making them is an honor, a meditation, and continue to reveal lessons for me as well.
Contact:
WAYNE MANTHEY
806 E. 36TH ST.
MINNEAPOLIS, MN. 55407
612-729-2962
Kim Weaver-Psychic Medium
In Love & Light~ Kim Weaver, Psychic, Medium,Spiritual Teacher will work with your guides to give you the message they want you to hear. This could include a past loved one, pet or a validation of spirit. Kim also has many beautiful pieces of Orgonite that helps transmute all negative energy into positive energy. Tarot bags, jewelry, and clothing embroidered with metaphysical designs. http://www.in-love-and-light.com/
What do your Aura Colors say about you?
Aura Photos~ Knowing your Aura colors is one of the most powerful tools in understanding your personality traits, relationships and for self discovery. Getting to know this awesome tool can help you with positive personal growth, career choices and remarkable insight regarding your true life purpose.
Our Digital Aura and Chakra Imaging System allows you to see your energy field displayed in color on a computer screen before your photo is captured and a report of the true meaning of your energy field is printed out. In the multi-page report, you will learn about the specific color and energy frequencies in your Aura and what they say about you. Aura Photo – $25.
The Aura Photo option is a two page report that includes a beautiful photo of your personal energy field and the description of what your specific colors say about you and what you display to the world. Aura Photo and Chakra Image – $40.
The Aura Photo and Chakra Image option is approximately 18 pages of detailed information about your Aura and each of your 7 energy wheels (Chakras) that reveal the levels of energy in which you bask. This report shows the energy that you create, your personal power, your strengths and areas of weakness. The interpretations of your energy field should provide insight into how you can become better balanced and generate excitement about who you really are. http://unemployedangelforhigher.com/aura-photos/
Don't miss Annette's Aura Seminar
on Sunday @ 11AM.
Be Perceptive to the Colors in Your Energy Field
Annette Bruchu
The relationship between your Aura field and your Chakra system is through color. To understand the harmony between the two will create a healthier You. When you are true to your birth color, you will discover ways to nurture and support your Chakra system. Join Annette as she shares with you the importance of color experienced through everyday life and how to maintain a healthy energy field.
A nationally known Intuitive Healer, Annette has a vast understanding of Auric fields, color representation and the Chakra System through Aura Photography. She teaches Intuitive Development and Energy Healing courses and also offers home and business energy clearing. $10 admission.
Adrian Lee~ Psychic/Author
Adrian has given tarot card and psychic readings all over Europe and America during the last 15 years, and I have recently designed my own tarot deck - based on 19th century engravings of the Midwest. Using his knowledge of art, tarot, history and the metaphysical he has depicted the many themes surrounding the white man's struggles during the early pioneer days - with native American conflicts, gambling, gunslingers, outlaws and homesteading. He is also a qualified Reiki healer and can trace my lineage of training directly back to its founder Mikao Usui. In 2012 he released a book through Llewellyn Press called, Mysterious Minnesota: Digging up the Ghostly Past at 13 Haunted Sites – this was a culmination of four years worth of research and has been very well received. The book was nominated in the 2013 Minnesota Book Awards;
My Latest Book, Mysterious Midwest, features a chapter on Mankato.
My 2nd book, How to be a Christian Psychic, What the bible says about Mediums, Healers and Paranormal Investigators is now available at all good retailers and as an eBook.
Previous books include: Mysterious Minnesota: Digging up the Ghostly Past at 13 Haunted Sites and Tales of a Pioneer Town.
You can also view his team, The International Paranormal Society and all future events at:
www.intparanormal.net
More Questions than Answers is the only weekly live paranormal quiz show on the planet. Tune in at www.darkmatterradio.net at 10pm (ct) every Friday night. All shows are archived at www.soundcloud.com/mqtaradio
http://www.llewellyn.com/product.php?ean=9780738731490&utm_source=authorblog&utm_medium=blog&utm_campaign=authorblog
The Bio Mat-We dare you to try it!
The Bio Mat Rejuvenation Sessions-Combining the healing properties of far infrared light, negative ions and amethyst crystal creates a unique healing environment. To counteract the effects of toxins, harmful electromagnetic radiation, stress and illness, regular use of the BioMat can bring the body into a state where wellness and recovery and relaxation are a part of everyday life. The thousands of testimonials from proponents of the BioMat attest to its validity. Experience a FREE 15 minute demo at the show. 40 minute treatments are $20 Sign up at the show.
Mystical Moonspinner- Psychic
Readings by Mystical Moonspinner ~ Kelly is a Clairsentient/Empath offering intuitive readings on any subject. Whether you want to get more insight into your career, love life or your path in life, Kelly will connect with the spirits to bring these messages to you. On occasion messages from lost loved ones or past lives come through as well. Kelly has been reading professionally for many years and is the President of the Holistic Arts Practioners Association. She is also the organizer of the Psychic and Paranormal Expo held annually in Marion, IA. To contact Kelly go to: www.PsychicReadingsbyMoonspinner.com
LIFE CHANGING-HEALTH CHANGING-